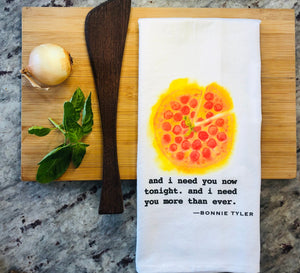 Flour sack towel: and i need you now tonight. and i need you more than ever. — Bonnie Tyler

Because sometimes you just need to crank Total Eclipse of the Heart on repeat and cry into some pepperoni. Or maybe that's just me.


These tea towels make a great housewarming or hostess gift.

27 x 27
Corner loop
100% cotton
Iron on transfer
Machine wash and tumble dry